Key Elements
Your internet strategy is all about getting people to see you, and to love you. In order to get there, you need all of the key parts of a great strategy working for you.
1Organic SEO. Your content has to be written so that Google can tell what its all about. And it needs to be smart, informative, and communicate ideas smoothly to your visitors. Its a double edged sword, and both edges must be very sharp.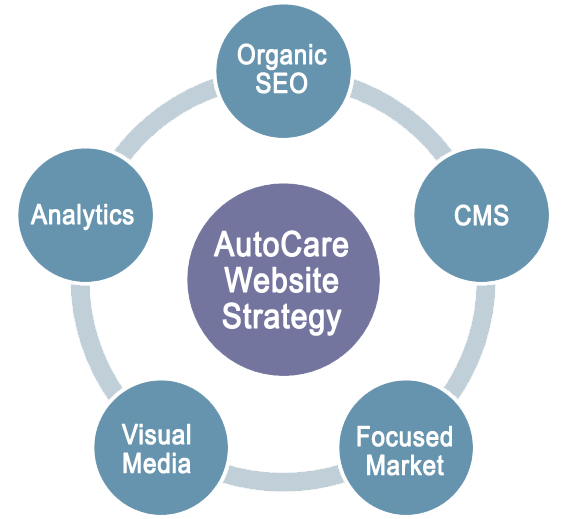 2Analytics. You have to know what people are doing on your site. How many are visiting each day. How did they find you. What keywords led them to you. How long did they stay. How many pages did they click. Whats working and what isn't. This leads to a process of constant refinement, and site expansion to cast a wider net.
3CMS. You need it. It stands for Content Management System. It is a smart and powerful internet publishing system, and is the foundation upon which websites can grow and expand indefinitely. 
4Visual Media.  Videos, artwork, photo galleries, dynamic content, smart navigation... These factors and others determine the visual impact of your website. These factors significantly contribute to the attention span of your visitor.
5Focus On AutoCare. And work with a web developer who knows your market, and understands what your customers are looking for. AutoCareWebsites has the focus, and the track record to prove it.
Please browse this site, our portfolio and demo sites. Bring us your ideas and challenges. We will bring practical and immediate solutions.
Want to know what Not To Do? Here are a few. Over reliance on PPC (Pay Per Click adtertising - No joke!). Static HTML. Duplicate Content (Zero Tolerance!). Flash (except in specific cases). Keyword Stuffing. Link Farms. Page Rank Obsession. Bulk Search Engine Submissions. Link Spam. Link Exchanges. Black Hat SEO. Meta tag stuffing. The list goes on. Someone might actually lead you into these bad practices because they dont have what it takes to do it right. Just a slick sales pitch. Dont be fooled, and dont make these mistakes.
I always get lots of questions about PPC in the list above. So here is the one liner... Pay-Per-Click advertising is usually done wrong. It is often done in desperation, as a quick fix for a bad web strategy. There are dozens of things you can do first (or that we can do for you) to improve your organic search ranking in google. Good Internet Marketing is an investment, not a drug. While it is possible to do PPC right, some web guys will mindlessly throw your money at PPC, and call it SEO. Thats like driving your customer's car through the car wash, and calling it an engine overhaul!